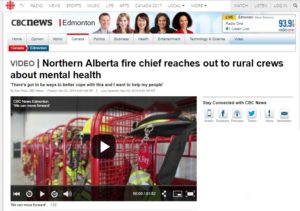 MD of Smoky River Fire Chief Maure invited Dean Young, a peace officer and community safety consultant from southern Alberta, to speak to his crew on March 3, 2018.  Young wrote the book You Break It, You Buy It about his struggle with depression and anxiety, after responding to the 2011 Slave Lake fire as a peace officer.  Dean Young speaks to first responders across Alberta about the importance of seeking help for mental health conditions. His symptoms worsened over years, Young told CBC News.  He started meeting with a counsellor after the scene of a fatal car crash triggered a panic attack.
Young shares his personal story as an example of how the stress of working as a first responder can take its toll, if left unaddressed.
Click HERE for the full story.